Castro Catastrophe (2006)
An historical fiction game and interactive theater piece inspired by the history of Harvey Milk.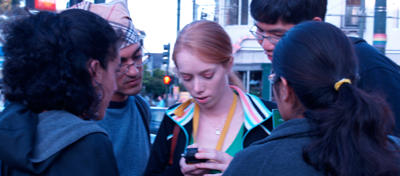 While I was working at The Go Game I wrote a historical narrative game — a cross between participatory theater, role-playing, and an adventure game — inspired by the history of Harvey Milk, the first openly gay man elected to public office in California. I ran the three-hour game twice, with about 25 players each time. Players played as supporters, and walked around the game zone centered on Castro Street, earning the endorsements of several actors playing the roles of Harvey's friends and competitors. Local bookstores, drugstores, and the Castro Theater were all in on the game and helped provide clues.